Caldonia Watson, Martian Doplomat
Model download page:
http://www.makehumancommunity.org/model/caldonia_watson.html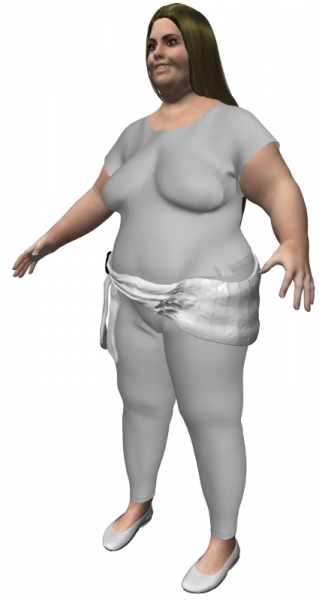 Caldonia Watson is a large lady in her early thirties who lives on Mars in the city of Mount Olympus. In the year 2147, a colony has been established for the purpose of terraforming the planet and building a gateway to the outer solar system. Caldonia is a diplomat working with the Martian Government to create an independent society free of the spoils of Earth. She advocates for a free culture where honest folks get out what they put in and nobody gets a free pass without hard work.
Caldonia has a bubbly, outgoing personality and she laughs a lot. Her hair is long and her body is soft, but underneath the ample curves, she is a strong woman who should not be trifled with casually. She is very forgiving but her memory is long and she forgets nothing. It is hard to fool her about anything since she is a keen observer who listens first and talks later with a tiny soft voice.
The SSBBW model is made using many custom targets. Caldonia will load nude in Make Human. Due to her large size, most of the clothing assets will not fit. To use certain assets, it might be prudent to export her and the clothing in question into blender and modify the meshes to get them to fit. There are standard items which require no modification, however, so simply try out some items to see what happens.