my MAKE-MUSCLE plugin for Blender - work in progress

Posted:
Sun Dec 16, 2018 8:23 pm
I started to work on a plugin for Blender to create muscle to add on a .mhx2 character. The muscle is automaticaly moving based on the rotation of bone (in the gif below, the rotation of the forearm animate the biceps)
The muscle system could be used to correct bad angles when extreme limbs position or even to simulate fat if i extend the idea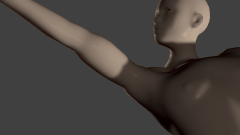 I quickly created the right biceps but i would like to add more muscle

. With my plugin, i would like to let people add their own muscles and save them in a specific file so they can use it on another model (as long as it use the same mesh ).